I thought I'd post a little something to keep all you office folk busy. We all get breaks, but what you do with them is your business. Here is what I do with mine. I got crafty.Eat your heart out Martha Stewart.
Office Cornucopia.
Lets face it, I like the Horn O'Plenty. I always have, so today I decided to create my own, right here at my desk.
Supplies:
1 8 1/2 X 11 sheet of paper
Tape
Your favorite items from your desk, or your neighbors desk if you're into stealing.
First position your paper like so:
I used color paper, because I like nice things. But if your office is cheap and only buys you the white 79 brightness crap, use that.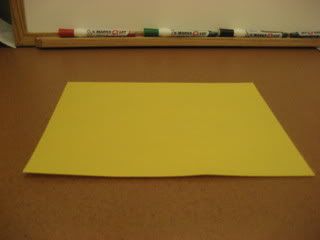 Bring top left corner of paper down to the opposite corner then curl in toward the center. (Make a cone, OK!). Tape the edges of the paper to secure the shape of your Horn.
Next choose an assortment of items from your desk to fill your Cornucopia. It is OK to let them flow out a little, I mean it is a horn o'plenty, not a Horn o'just enough. Here are the items I chose: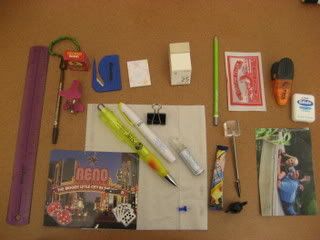 Next fill your Horn with all your precious items. Traditionally you are supposed to fill it with the large items first, but sometimes you just gotta jam it in there until it fits.
Here it is half full:
Completed: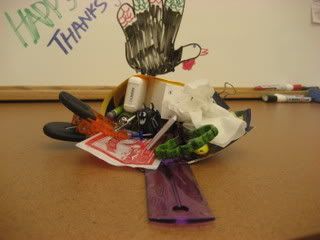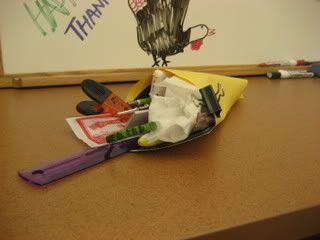 As Kitty Kwan would say......"ENJOY IT".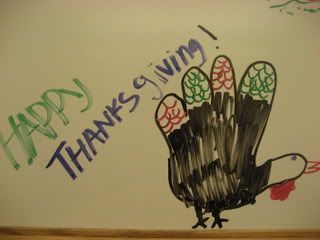 Well thats all for this craft session. Next month I'll show you how to make a wreath out of copy toner and kleenex.