You all know I got an adorable bunny for Christmas. He is so cute I could almost die when I see his sweet bunny face!
Here he is helping me in the kitchen: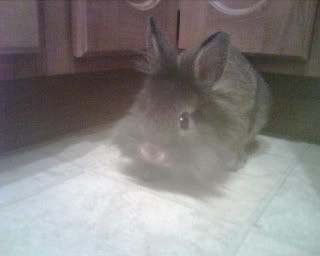 And this photo was taken yesterday because he was having an exceptionally great hair day. Ken Paves would even be jealous.
Someone stop me before I squeeze him to death because he is so precious. No really, sometimes I love him so much I just wanna squeeze him. He is really smart too. He has already learned to go up and down stairs and hop up on the couch. Today he wore his first collar. Not a big hit, but I am sure he will soon love it. His favorite foods are rabbit pellets, lettuce, carrots, cucumbers, Special K with berries (but just the flakes, he watching his figure),crushed ice, and vegetable puffs (they are like rabbit caviar of something) Those veggie puffs are like speed for rabbits. He goes bonkers when he eats like half of one.
(P.S. sorry these pics are kind of shabby, they were taken on my Blackberry. Stuart has the camera in AZ so he can take pictures of the senior citizens and cacti.)
He is like an Extreme Rabbit. He does these sweep double leg air kicks. I can't even explain how freaking sweet they are. You just have to see them. He likes to bound around the living room at 50 miles an hour. He can't wait to meet you all.
Stuart is in Arizona this month, for his new Geico job. He started training on Monday. But really it sounds more like school. He has test each day and home work. I think he is enjoying it. A vacation is nice, but after 2 weeks of not working he was bored out of his mind.
At the end of January he is going to D.C. for 4 weeks. Then he gets to come home for a weekend, and then back to Tucson for another 6 weeks. You guys, being alone is real real boring. I think of funny stuff to say and the only person to hear it is Booker T. and he is usually too busy chewing on my stuff to care. I;m just sayin, living with your best friend is pretty sweet, and I just happened to marry mine, so I am kinda bored. It's only been 2 weeks. Seriously. I know.
Well turns out I will probably have lots of time to update. I know you are thrilled.